Contact Lens Instructions
Few things affect the quality of your life more than your eyes-NEVER put them at risk. Contact lenses are prescription medical devices. Ocular complications and/or long-term corneal damage are the consequences of contact lenses that are worn longer than recommended. Oftentimes, your lenses will still feel good even when you are over-wearing them. To make sure your eyes and vision stay healthy while wearing contact lenses, please follow these few guidelines and the instructions recommended by your doctor.
Wearing Schedule
It will take at least a few days for your eyes to get used to wearing contact lenses. The best way to insure maximum visual comfort and keep your eyes healthy is to patiently and faithfully adhere to this wearing schedule.
| | | |
| --- | --- | --- |
| Day | Gas Permeable Lenses | Soft Lenses |
| 1 | 2 hours | 5 hours |
| 2 | 4 hours | 6 hours |
| 3 | 6 hours | 7 hours |
| 4 | 8 hours | 10 hours |
| 5 | 10 hours | 12 hours |
Oftentimes, your lenses will still feel good even when you are over-wearing them. Following are some basic Do's and Dont's of Contact Lens Care:
DO NOT wear your lenses overnight unless they are approved for extended wear and your doctor has discussed this with you. Overnight wear increases the risk of infection and other complications.
DO NOT wear your lenses while swimming or around noxious or irritating vapors.
DO NOT continue use of contact lenses if your eyes become red, irritated, painful, or if your vision gets worse while wearing lenses. Immediately take out the lenses and clean them. Let your eyes get back to normal and if the problem persists, contact our office.
DO NOT exceed the wearing times suggested, even if your lenses still feel comfortable. Studies have proven that the eye needs time to adapt to contact lenses, and your wearing schedule is based on those studies.
DO always remove your contact lenses at least 1-2 hours before going to bed to rest your eyes.
DO wear your contact lenses for at least 2 hours before your follow-up appointment unless you are experiencing discomfort.
DO schedule and keep follow-up appointments with your eye doctor.
Caring For Your Contacts
Deposits and infectious organisms such as bacteria, viruses--etc., can build up on the surface of all contact lenses. For this reason, it is very important to keep them clean and disinfected.
Here are some guidelines to follow to help you become a successful contact lens wearer:
Use only the solution and regimen recommended by our doctors. They know what is best for your lenses and for you. NEVER use tap water for soft contact lenses.
Always wash and rinse your hands thorougly before touching your eyes and lenses.
Insert your lenses before applying make-up and remove your lenses before removing make-up. Only use cosmetics that are compatible with contact lenses.
Examine the lenses before inserting them for cleanliness and signs of damage.
Throw away your lenses regularly as determined by your doctor and they lens you are wearing. Also, throw away your lens case every 3 months and use a new one.
Use only rewetting drops for contact lenses. Other solutions will damage your contacts and make wearing them uncomfortable.
Use new contact lens solution every day to store and clean your contacts.
Here's what you need to watch for: Redness, blurriness, light sensitivity. Remove your lenses if you are experiencing any of these 3 things. If your eyes have not returned to normal after 24 hours, please contact our office. If you have any change in vision, comfort, or irritation, immediately remove your lenses. If there is no improvement within a couple of hours, please contact our office. If the office is closed, call the emergency number at (509)-546-0211
Top of Page
Monday:

8:00 to 5:00

Tuesday:

8:00 to 5:00

Wednesday:

8:00 to 4:00

Thursday:

8:00 to 5:00

Friday:

8:00 to 4:00

Saturday:

closed

Sunday:

closed
Why Frequent Eye Exams Are a MUST If You Take Hydroxychloroquine (Plaquenil)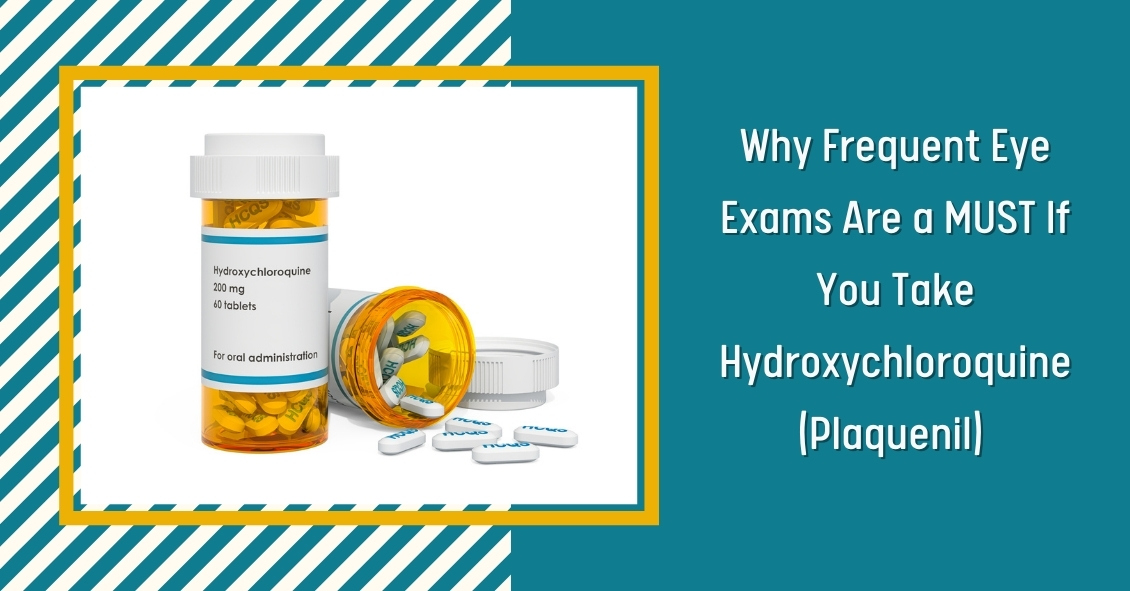 Hydroxychloroquine (Plaquenil) was originally used to treat malaria and is now commonly used to treat rheumatological and dermatological diseases. It is frequently used for rheumatoid arthritis (RA) and Lupus and is often very effective in...
Read more ...